"You wear sarong. It's good." a middle aged Indonesian man said to me as I walked down the path to the beach in Sawarna. A day later we would meet Pa Ma'ani again at our homestay there. It turned out he was an English teacher at a high school in the nearby town of Bayah (pronounced bye-ah in case you couldn't tell from the bad pun in the title), as well as at a private school he ran out of his home. We spent a long time talking to him about our trip and our backgrounds, and he told us about his students and school. That week while we were staying in Sawarna we made two trips by ojek to Bayah to talk to students. We also agreed to come back a few weeks later to stay at Ma'ani's home.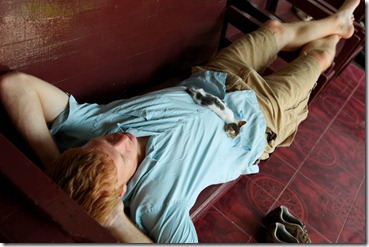 Two weeks later we were bouncing down the rutted and potholed road from Bayah to the city of Serang, five hours to the North-West. There were seven of us stuffed in to the Unsera Universitas SUV: Ma'ani; Pa Irwan, who was part of the faculty at Unsera, and who had become our guide/translator; Pa Malik, the Dean of Social Politics and our host; our driver; and a young boy who lived in Serang and was hitching a ride. The day before we had visited SMA Bayah to speak at the opening of an English speech competition, and I had unfortunately come down with my first illness of the trip with severe stomach cramps, so I was more than a little wiped out. Apparently corruption in the region has caused the roads in the area to be left in total disrepair, and we regularly have to swerve left and right to find a passable way, or slow to a crawl as we pitch and roll in and out of man sized divots. But was have many interesting conversations, about the language, the school, local politics, and differences between Indonesia and America.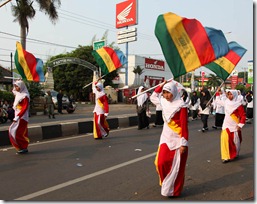 Once in Serang we went to the home of Pa Malik, where we would spend the night. After a delicious dinner of goat satay with peanut sauce and stir fried vegetables we went for a walk and ended up taking a Bemo over to the university. There we met with some students who were setting up for the opening ceremony of their "English Day Club" which we were to speak at the next day. It was with some chagrin we discovered our names had been put on the banner for the ceremony. Apparently our visit, was a big deal for the students. The students were a very interesting group of people, from many backgrounds, and with varying English ability. Some were from Serang, and some were from other parts of Western Java. Some spoke nearly fluently, others were shy and didn't say much, although we thought they were all very talented, especially considering English is a third if not forth language for many of them. Finally we went back to Pa Malik's for a dessert of pisang goreng, showers and bed.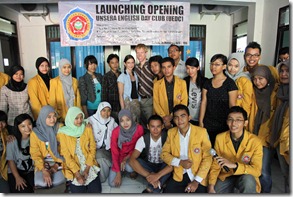 The next day is a bit of a blur; we went to two ceremonies at two different schools where we spoke with students. At the opening ceremony for the English Day Club there was a very involved and amusing skit performed by the students. There were musical performances, including an impromptu performance by Jen of Let It Be, and finally a short question and answer session. A good time was had by all, and we was very impressed at the length to which the students went to put the ceremony together.
Next we went to an Islamic university that was working to improve their English program. There we spent some time speaking with some of the faculty, and then had an involved interview and question and answer session with the faculty and students. There we received some more interesting and thoughtful questions about America and our culture and education.
Overall, our spur-of-the-moment journey as either ambassadors of the English language, or oddities from overseas on display (I'm not sure which), was a great experience. We met many fascinating Indonesian youths and teachers. We had many interesting conversations; sometimes the same one, ten or twenty times with different students. And we learned a lot about Indonesian culture, while at the same time hopefully creating a good impression of ours.
These are the kind of experiences that make traveling so worth while. The kind you don't expect and never know quite what they'll look like until you're in the midst of them.