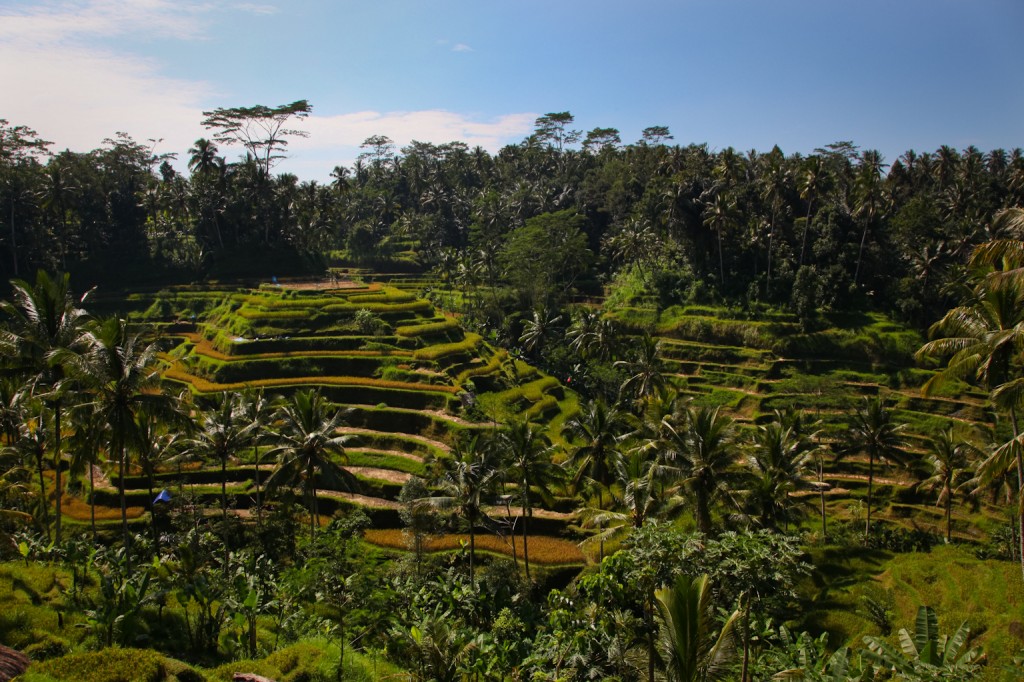 Things I did on Bali: ate at a secret organic restaurant, swam in hot springs-fed pools at a secluded spa, photographed a misty volcanic lake, rode ojek (motorbike) on windy mountain roads in the pouring rain, fell in a rice paddy, and bribed a police officer.
And that was just one day.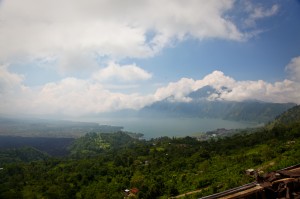 At the end of our stay in Indonesia, we managed to fit in six short but busy days on the island of Bali. Even just the name of the island conjures up a hectic barrage of images and expectations: a sublime tropical isle, relaxing on beautiful sunny beaches, world class surf, fancy resorts, and swinging bars and clubs. And from our own experiences so far in Indonesia, we expected cheap local food, limited western cuisine, touristy shopping areas, and the same hot, muggy weather. Additionally, there was an unknown factor – we were overlapping our stay to hang out with Mel, a friend of my stepmom, who was traveling with several friends we had never met before.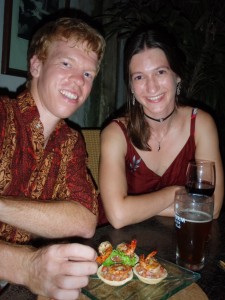 The combination of the novel and the expected that we found was just right. The resort in Seminyak was wonderfully luxurious, especially after weeks in homestays and other relatively humble accommodations. There was plenty of shopping to be done, with great finds everywhere, such as the beautiful batik, handmade by locals in the traditional style. Sometimes it a took a little effort to find, but there was good local food all around, with the usual cheap prices. And the music scene in Ubud was first rate, with a variety of genres played live every night by seriously talented bands in multiple cool bars.
Some of the best parts were completely unexpected. There was more western food at the resort's expansive breakfast than we had seen in the past two months combined, including many things we had been sorely craving. Mel's clan of Aussies were the best by far, from her partner, Jason, and her sister, Sue, to her friends Toni and Simone. They were up for anything, with plenty of fun plans and ideas, but also willing to be spontaneous and able to keep smiling no matter what craziness got thrown at us. We enjoyed finding good food together, chatted for hours, and danced the nights away as if we had been at it for years.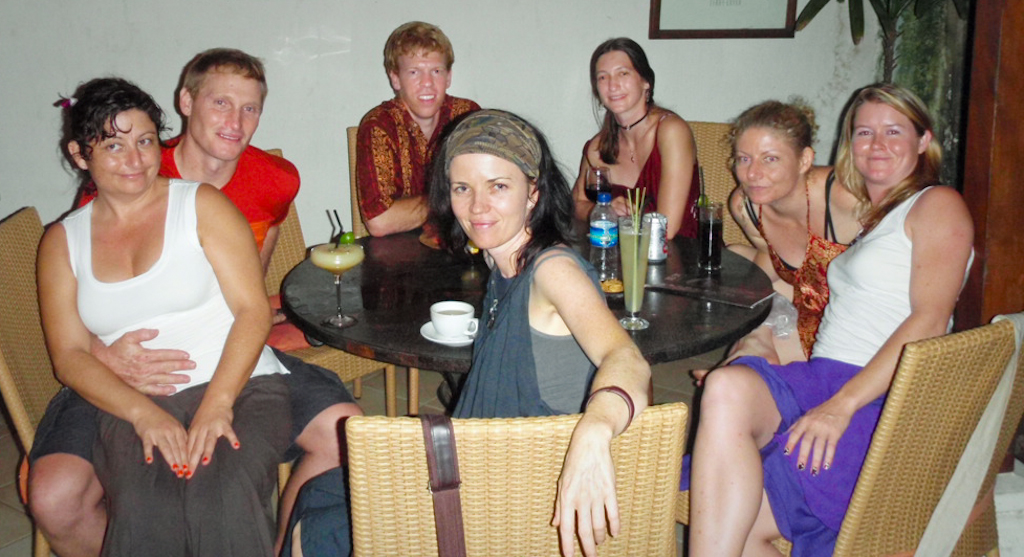 Of course, there were some not so pleasant surprises as well. The beaches were not much cleaner than others we had seen on Java, and the waves weren't very impressive either, although we didn't look very hard for the real surf spots. The expected hot muggy weather was broken up by rain, often ending an afternoon out. We didn't let that dampen our spirits too much, but the hassling from locals selling things was downright aggravating. The Kuta shopping area and adjacent beach were the worst – in many areas you could barely go ten steps without being set upon by hawkers shoving cheap sunglasses or sarongs in your face. Many shop workers tried to harass you into buying something, often lying to your face and inventing ridiculous stories to go along with their outrageous prices.
Yet despite having a few of the worst experiences, our time on Bali included some of my all time favorite memories of the whole trip. One of the top experiences was our trip on ojek out of Ubud to the volcanic crater lake. The sun was warm overhead but the breeze was refreshingly cool. We cruised slowly along the straight, flat, smooth road past craft shops and terraced rice paddies, with increasingly more impressive views of old volcanic cones, raising their green tops amid a perfect blue sky. The leisurely pace set by our friendly and helpful tour guide allowed us all to enjoy the scenery and for Mel to take plenty of photos. It was the right kind of adventure, just like our time in Bali – a wonderful blend of the expected and unexpected. To put it simply, I was Happy.