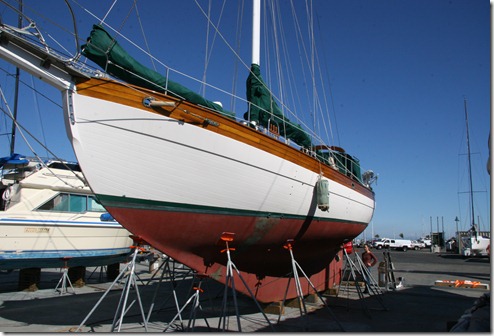 Meet Serenity, our new (to us) sailboat. She's a 1984 Hans Christian 38 Traditional Cutter. While she's 38 feet on deck she's actually 46 feet overall thanks to the bowsprit and "pushpit" (a small platform at the stern surrounded by a rail). The fact that she's a cutter means she has two headsails, an inner staysail and an outer jib. Finding her was an adventure in itself, and a bit less serene than one might hope.
First there was the figuring out what we wanted. Age, size, price range, amenities, displacement (weight), type of keel, sea kindliness vs. performance, etc. I read several sailboat cruising guide books for insight; I read numerous websites; and finally we looked at what seemed like a hundred sailboats in the bay area. Our boat viewings ranged from obvious head-smack waste of time, to excitement and near disastrous bad decision. But unequivocally time after time, there was something wrong, that made the boat not right for us. Some were too big, some too small. Some were missing key features, like a decent shower setup, or respectable fuel tank size. One was a old but beautiful wooden boat with rot lurking beneath the surface.
Pretty much every boat we looked at, with the exception, ironically, of the first one, had some major blemishes making it unattractive. Many hadn't had basic upkeep maintenance, such as bottom paint, interior or exterior varnish, or updated running rigging. Few were what you would call clean, and some were so bad that lockers and refrigerators were downright filthy. Several had half finished installations, which the brokers often billed "it has a brand new XXX," failing to mention that you'd have to install the new component yourself. There were almost always several obviously broken things, be they cabinet doors, navigation equipment, port lights, or settee seats; and I'm willing to bet that a thorough sea trial and survey would have outted a number of other non-working systems. We never ceased to be amazed at how careless people can be with their boats, or how brazen they can be in trying to sell them in such a decrepit state.
Some of the boats we almost bought.
Gradually our vision of the right boat came in to focus. It would be smaller than we originally thought. It would be slightly more expensive, in the hopes that a little more money would get us a boat in better condition. It would definitely not be wooden, although it would almost certainly have a substantial amount of teak exterior, if not teak decks (I like the classic look). It would have moderate to heavy displacement, favoring sea kindliness over performance. It would have an enclosed aft cabin and v-birth, and sleep 6 including the settees. It would have minimum tank capacity for 80 gallons of water and 60 gallons of fuel. It would have a windlass for raising anchor (manual or electric). It would either have a dodger or be capable of fitting one.
We were on the brink of giving up on the Bay Area, when I decided to go take a look at this Hans Christian over in Sausalito. It hadn't been on my radar initially because of the slightly out of our range price. And even after we started looking higher I thought the cockpit setup was a bit odd. But aside from that it actually seemed, on paper at least, to meet all of our requirements. I had learned long ago that reality rarely reflects things on paper.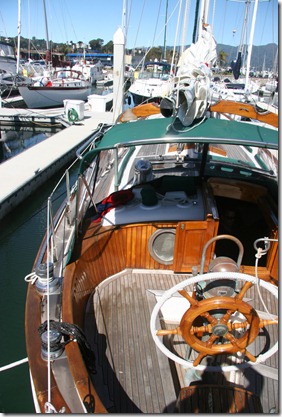 In the end, we fell in love with the boat pretty quickly, and for once, there was no heart dropping discovery that made the boat untenable. She's the most spacious 38 foot boat we've been on. She has an unexpectedly nice interior arrangement, from the galley to the head, to the cabins. She's exceedingly pretty. She's decked out in terms of navigational equipment. She's got new sails, and more than half of the things on board work. Things aren't all wine and roses of course. I have a to-do list as long as my arm. It includes some major numbers, such as replacing the standing rigging and painting the mast. And there are some systems not working, namely the fresh water pump for the taps. But generally speaking she's a very solid boat with a lot of years adventure left in her.
I tell you what. You buy this ship, treat her proper; she'll be with you for the rest of your life.

-Salesman, Firefly, "Out of Gas"
Another thing we noticed along the way was the diversity of attitudes of the brokers. They ranged from used car salesman pushy, to ambivalently unhelpful, to sincerely helpful and honest. I will say that all the brokers seemed to be under attentive to the boats they were selling. I'm not sure if it's the owner or the broker who's responsible for this, but if one or the other would spend one day a month tidying up the boat, making sure various onboard systems were in working order, and scheduling routine maintenance on the boat, it would go a long way toward getting the boat sold. Several of the boats we looked at we might well have fallen for if the owner had spend a few thousand dollars fixing things up.
In the end we wound up buying a boat from my least favorite broker, Marotta Yachts of Sausalito. Luckily I had one of the most helpful brokers we interacted with, Bearmark Yachts, representing us as the buyer. Without John Saul of Bearmark Yachts, the deal definitely wouldn't have gone as smoothly if it had happened at all. Marotta was the most hands off, un-personable establishment we dealt with. Their procedure for showing boats is to leave it open and give you the slip number. While I do appreciate having some time alone to poke around the boat, it's also nice to have some one to talk to, ask questions of, and get advice from (Passage Yachts and Pacific Imports also scored high in this regard). So when John offered to set up the viewing and come along with us, I really appreciated it.
It was only after that that I discovered the buyer's broker system, where by, if the buyer has their own broker, the two brokers simply split the commission at no extra cost to the buyer. This worked out perfectly, and John came through again on the sea trial, where the sales person Marotta sent out professed to "not know the first thing about sailboats." And finally the entire Bearmark Yachts team, from the owner on down, did a great job getting the deal done even with me on a sailing trip to the Channel Islands with very limited connectivity. I think the moral of this is 1) if you want to sell your sailboat, choose your broker carefully, and 2) as a buyer, pick your favorite broker, and have them represent you with whomever you end up buying from.
Stay tuned for our next post where you'll get to know Serenity a lot better…