As some of you may know, the nautical allusion in the title of blog is no coincidence. About a year ago we decided that we wanted to move on to a sailboat and go cruising. We weren't sure exactly how long or how far, and we still aren't, but we know it is the kind of adventure we are looking for. We've never felt completely settled in the places we've lived, we have an itch to travel and see new places, and we want to visit or be visited by friends and family all over the world, so a sailboat seemed like the perfect way to achieve this, all while undertaking the most daring adventure of our lives.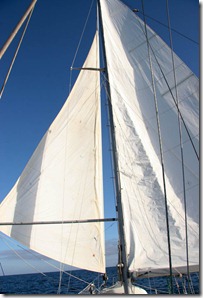 And now our plans, over a year in the making, are finally coming to fruition. As discussed last post, we have purchased our sailboat, a 38 foot cutter rigged sloop named Serenity. We're now working tirelessly to get her ready to embark on a journey without deadline or destination, to visit the both old haunts and parts unknown; to see long time friends and make new ones. One day soon, we'll decide we've done enough preparation, and that while things may not be perfect, we are ready. Then we will set sail. The plan is, after many day sails in the bay and some short test passages, to head south to Mexico, where we will enjoy some much needed warm weather, surfing, and diving. Eventually we want to transit the Panama Canal and cross the Caribbean to visit our families on the east coast. However, because of the length of this passage, and the necessity of avoiding the Caribbean hurricane season, we won't be able to embark on that journey until next year. So this year it will be back to California where we can get jobs and raise some extra funds for future passages.
For now we're working on the last of the high priority todo list items. Having replaced the standing and running rigging, and refinished the cabin sole, we're now installing an inverter and solar panels; rebuilding winches; accumulating spare parts; servicing the head, critical pumps, etc.; and making a few replacements of auxiliary diesel components. We're also looking for crew members to join us on parts or all of our passage to and from Mexico. So if you're schedule is flexible, and you want to have a crazy sailing adventure, or just spend a week in Baja—whether you have experience or not—give us a ring.