An ounce of prevention will save your bacon. –Kent Parker
All I can think about at this moment is how much I wish I was out there sailing on the open ocean. But all I've been able to do for the past month or more is tackle one problem or project after another in order to prepare for that journey. One day, as I was working on several of these projects simultaneously, one of my crew members pointed out that I was experiencing the "but first" phenomenon. I wanted to get one thing done, "but first" I had to do something else. Life is full of fractals, or self similar patterns, and I get the feeling that this is an example. Just like on the small day-to-day projects, where one thing leads to or necessitates another, our larger goals require or necessitate other, sometimes unpleasant or seemingly tangential efforts.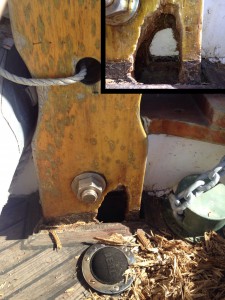 So what have we actually been up to? Well, our stuffing box was either leaking like crazy or overheating like a furnace; it turned out our prop shaft was warped so we had to spend a week on the hard getting that straightened. Then I discovered one of our samson posts was rotted out so those had to be pulled out and are being rebuilt. These aren't the kind of problems that we could put off or quickly patch up ourselves. Meanwhile my crew is probably ready to mutiny after so many delays, and our bank account is slowly trickling down into the bilge. Sigh.
But there are, of course, upsides to all of this. Lots of the smaller, nice-to-have projects are getting done in the meantime. The dollars and time that we're spending now are really investments that I hope will ensure that we don't have catastrophic problems down the road (see the excellent quote from our surveyor above). And at the end of the day Serenity is in the best shape she's been in since we bought her (despite the fading brightwork).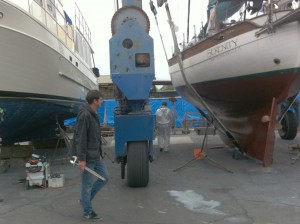 This experience, like many challenges worth undertaking, is like climbing a difficult summit. You may not really know what you're getting into when you set out. And along the way it may seem like the road ahead is insurmountable. But when you finally achieve your goal, all the hardships endured throughout the journey make the accomplishment that much more significant.