This and the next few posts are being added significantly delayed because Paul forgot the email address he set up to post to this blog by email.
May 24th, 2016
This morning our distance from Hilo and main land US were the same, so that makes it Halfway Party Day! We are officially more than a thousand miles from anywhere, which is about as lonely as you can get sailing on the oceans of this planet. The past few days have emphasized this solitude; after catching our first fish we saw no other signs of life for several days. Recently a white seabird circled us on a few occasions. But there have still been no radar contacts besides the rain showers that sometimes pass through.
Coming up with something notable to post about has been a challenge. Our journey has been an exercise in averages. Sometimes there's a little more wind, sometimes less. Sometimes the swell is mellow, sometimes more rocky. We eat, nap, play cards, and listen to music. Our supply of fresh produce is slowly diminishing, and we're making similar headway on our reading materials. Amidst that routine sameness, simply spotting some flotsam in the water can be the highlight of a day.
This mundane state is still much better than the alternative of things going wrong. So far we've never hit true extended doldrums or storm conditions. Our list of broken gear is limited to a rip in an outdoor cushion and a shackle that simply needed to be bent back into shape. And despite the spotty rain showers of the last few days, the weather is trending warmer and clearer. Night watches now come with nearly uninterrupted moonlight and the daytime skies have turned mostly sunny and as blue as the sea.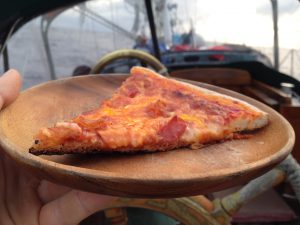 Tonight we're planning a victory feast of pizza and other treats to celebrate our progress. The forecast ahead looks like more of the same good weather as we slowly traverse the remaining miles. Stay tuned for exciting reports of the sea madness we definitely don't have, and continued SPOT tracker posts from whatever time zone we decide to be in. Seriously, we have no idea what longitudes officially mark the zone borders, and we mostly don't care 🙂