We interrupt the tale of last fall's trip to the Channel Islands to bring your news of our current whereabouts and happenings. The short version is: we've been in San Diego for two weeks, and now we're headed to Baja!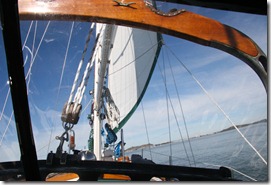 On Tuesday the 8th of March we departed our slip at the Berkeley Marina, and headed south. Bound for the southern tip of the Baja Peninsula and the Sea of Cortez, our first stop was to be San Diego. The trip down was mostly an uneventful mix of sailing and motoring. That is until we got to Point Conception.
We left when we did to avoid one of several large storm systems that had been and continued to be attacking the California coast. We knew we had to reach our destination by the weekend to avoid heavy weather, and we new there was no avoiding the typically rough conditions around Point Conception.
Even approaching the point from well off shore things began to pickup pretty quick. By the time I had put the first reef in, I immediately decided to add a second, and I'm glad I did. It blew 30-40 knots, with waves to match, all night and didn't let up. In fact, some time in the early morning our autopilot managed to tear itself off it's mount trying to fight a wave that was rounding the boat up. As a result we had to hand steer the boat from that point on.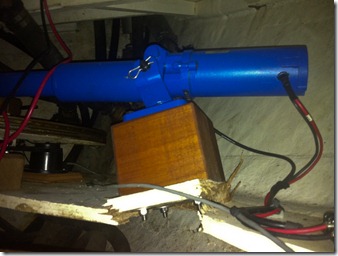 We continued to have heavy conditions around the point and past the northern Channel Islands, where things moderated a bit. About half way from Santa Cruz Island to Catalina the winds finally died off to almost nothing, and we decided to fire up the engine, and get in to Avalon sooner rather than later for some much needed sleep. Unfortunately I had failed to keep a careful eye on our batteries, and the engine wouldn't start. It was well after dark so we decided to heave to, keep a watch, and deal with it in the morning.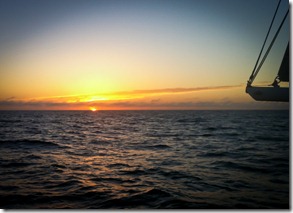 Lucky for us I had gotten all the supplies I needed to wire up our new solar panel. Well almost all of them. So, with wires strewn around the nav station and cockpit, I was able to get enough juice to start the engine. After monitoring things more carefully for the next 48 hours I decided the battery bank itself was partially to blame and would need to be replaced in San Diego.
We moored at Avalon harbor for two days. We slept, showered, shopped, and reassured all our friends and family that we were safe from the tsunami that had threatened the California coast while we were off shore. It felt good to return to Avalon in our own boat, having visited last fall in Fetchin' Ketch. We had made our first passage, albeit a short one, on our own. An accomplishment for any burgeoning cruiser.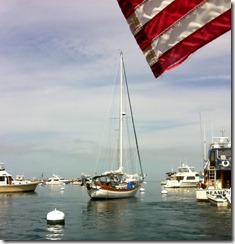 On Monday the 14th we departed Avalon for San Diego. Before we left however, we made a stop at one of the nearby anchorages where I tried in vain to get the autopilot functioning again. It turns out the hydraulic piston that turns the rudder had not only been dismounted, it had fried some internal component.
After a frustrating few hours spent on the autopilot I decided to jump in the water and do some snorkeling. I donned my gear, my video camera, and jump in. The water wasn't too unpleasant considering the temp was in the low 50s. I took a look at our anchor, watched a ray take off from it's hiding spot in a cloud of silt, and headed for the kelp beds near shore. After just a few minutes kicking around with the garibaldi and perch, I rounded a stalk of kelp right into a seemingly massive 5 foot shark. Needless to say that brought a swift end to my snorkeling endeavors. In retrospect I wish I had stuck around to try to get a little footage. The shark probably would have been just as scared of me, and been eager to go find some smaller prey.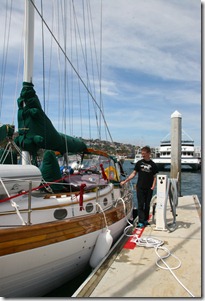 Around dusk we started up the motor and made our way over to San Diego. We had timed our departure to make a morning arrival in San Diego in order to give us time to figure out arrangements for docking/mooring/anchoring. I knew San Diego had a public guest dock, but at a cheap $10 a night I was worried it would be full up. But as it turns out the dock isn't really that crowded when it's not the season for cruisers to be passing through, and we're going south pretty late.
Now for the last two weeks we've been in San Diego fixing/installing/procuring stuff. I rewired the solar panel properly, replaced our battery bank and wiring, added a battery monitor so we wouldn't have any more engine starting issues, and installed a new alternator with a fancy charge regulator. We had professionals take care of the autopilot and VHF antenna wiring issue (turns out somebody botched the installation of the connector at the top of the mast).
Right after I post this we will be weighing anchor and heading south. Our first stop will be in Ensenada to do our entry paperwork. Many people have told us to just go south and enter at Cabo, but the official story is that if you're entering with a pet you have to have a health certificate that is less than 10 days old. Plus I'll feel a lot more comfortable going a shore at the anchorages along the way with all our paperwork in order. From there we'll be off shore a few days before anchoring at Bahia de Tortugas for a bit, followed by Bahia Santa Maria. We'll be back in touch from Cabo San Lucas on or around April 16th. Until then you can watch our progress on our SPOT tracker page.